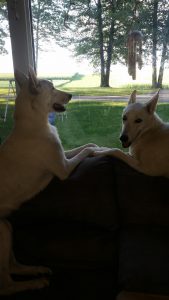 My name is Janelle, and my husband and I are both avid dog lovers.  There have only been a few rare times in my life when I haven't come home to the wagging tail of a loving dog whose world has been made right again just because I walked through the door.  In my 50+ years many dogs have come and go, each with their own personalities and playfulness, and I've loved them all!
We live on 15 beautiful acres in the Midwest with 2 very energetic white German Shepherds named Sasha and Tahlen. With our children all grown and out of the house, there's no denying that watching the antics of these two has filled our lives with endless love and joy.  In return, our dogs trust us completely to love them and take care of them in every way.
But then something happened with our dog, Sasha, that gave me the passion to create Love My Pooches.
Sasha's Story
One afternoon Sasha came back to the house limping on her back right paw.  Now that was no cause for concern as both dogs love nothing more than to chase squirrels, race through the creek, and run full blast into the woods. They'd occasionally come back limping on one foot or another, just to start all over again after a good night sleep and be perfectly fine.
However, after a couple days, it became obvious that she needed to see the vet.  It was heartbreaking to hear that h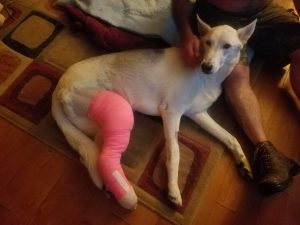 e confirmed the worst, she tore a ligament in her leg and needed surgery.  While discussing her recovery, he suggested an orthopedic bed.
Now my husband and I had never heard of an orthopedic bed for a dog, so we were surprised that it was recommended by our vet.  Since Sasha couldn't sleep on our bed while recuperating (her favorite place!), we researched orthopedic dog beds and purchased one.
To our surprise, not only did Sasha love it, but Tahlen wanted to sleep on it too, so we wound up buying a second one for him!
Love My Pooches Was Born!
After the experience with Sasha, we realized that despite having dogs our whole life, we were unaware of the different types of dog beds and how much the right bed can change the health and well-being of a dog! 
But which beds are truly beneficial and worth your hard earned dollars and which ones are more marketing hype than quality?
My goal here at Love My Pooches is to research and review all types of dog wellness products and share with you what I've learned.  Now everyone can make the best choice for their own cherished pooch!
I encourage you to see my dog bed reviews in the navigation above and browse our Learning Center to get great information about products and services beneficial for your dog. 
As I add to my site, I welcome topic suggestions, comments, and the sharing of your experiences!
Thank you and remember ~ 
Life is better when you share it with a dog!
Janelle