Are you looking for a great bed to give your dog a restful night's sleep? Then you want to see the best orthopedic dog beds!
I've researched and reviewed a lot of dog beds on the market. But there's one bed that stood out for me in terms of quality and price.
So I not only bought one for my German Shepherd, but my dog loved it so much that I bought a second for her brother!
This orthopedic dog bed is The Dog's Bed, sold thru Amazon by The Dog's Balls. Check out my review below!
What Do You Want In A Great Orthopedic Bed?
In order to determine which bed is right for your dog, you have to first know what features are important for your particular dog's needs.
Those include:
~ Size of the Bed–This is one of the most important features for your dog's comfort. If the bed is too small, many dogs won't sleep on it.
You can buy the best bed in the world, but it won't help your dog if they won't sleep on it! To find out how to choose the right size bed, read my guide here.
~ Quality of Construction–No one wants to buy a bed with inferior materials that contain chemicals or that will wear out fast. Durability and safety are #1 considerations when I review a bed.
~ Supportive Material–The reason for buying an orthopedic bed is for the support it gives your dog's joints and weight.
Does it have enough to ensure that pressure points won't be created as your dog sleeps? If not, the bed will never be included on my list of recommendations.
~ Easy to Clean–This is a feature that a lot of buyers don't think about until they're sitting there with a dirty dog bed and realize there's no good way to clean it!
So the bed needs to have a removable cover that you can wash and a waterproof liner–you'll be glad you have them!
~ Price–Last, but not least, the bed has to be affordable. While cost may be no object for some pet owners, it was definitely a factor for us.
The better the bed, the higher the price, however, I think my #1 recommended bed is the very best value for a reasonable price for most pet owners.
Let's check it out!
The Dog's Bed–My Top Rated Affordable Bed
I can confidently say that The Dog's Bed met all my requirements! This orthopedic bed has all the support needed for my 90 lb. German Shepherds, while being easy to clean and sold at an affordable price.
The size we bought was the XL with dimensions of 46x28x6. This is large enough for our male, Tahlen, who loves to sprawl out when he sleeps.
With sizes that range from Small all the way up to XXXL, there is one that will fit any dog.
Is your dog a snuggler?  Does your dog love to put their head on a headrest or bolster when they sleep?
You can also purchase The Dog's Bed with a headrest or one with a bolster on over 3 sides.
The beds are brown or gray with a variety of trim colors. So they look nice in any room of the house where you'd want to have them.
Great Quality And Support
The quality of construction is excellent with The Dog's Bed. We've had both of our beds for 2 years now, so I can verify the durability of these beds.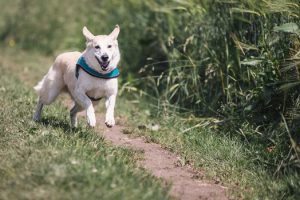 We live in the country, and our dogs regularly run through fields, the woods, a creek, and anything else they can find. So you can imagine the kind of mud and debris that they bring in!
I've washed both covers multiple times, and they are holding up beautifully. The top is still plush and comfortable, and the seams are still tight with no sign of coming apart.
The bed is designed with 6″ of supportive foam. There is a solid 2″ layer of premium high-density orthopedic memory foam over a solid 4″ base of premium supportive foam.
When your dog sleeps on this bed, they are not going to bottom out or develop pressure points. It fully supports their body weight, leading to a restful, restorative sleep.
I can attest to the fact that after 2 years, there is no bowing on either of the beds we purchased. Considering that they get slept on every day, I've been impressed and pleased with our purchase!
The Price Is Affordable
Orthopedic dog beds of this size range in price from $100 to $500. For a bed of the same quality as The Dog's Bed, I'd expect to pay $200.
But it's available for under $150, which is a terrific value in my book!
Now, I'm not going to tell you that this bed equals the quality and construction of beds like the Big Barker or the BuddyRest.
With superb construction and 10 year warranties, both of them are truly the Rolls Royce and Cadillac of orthopedic dog beds.
If you're looking for the absolute best, I highly recommend you check them out:
But if you're looking for an all-around supportive, durable, affordably priced bed, I definitely recommend the value that The Dog's Bed offers.  You can check it out below:
The Dog's Bed–Best Orthopedic Dog Bed On A Budget!
If you have an older dog, if your dog is prone to joint problems or other health issues, or even if your dog just lives a very active lifestyle, they need the support an orthopedic dog bed offers.
When our dog, Sasha, had surgery on her leg, The Dog's Bed fit the bill for what we were looking for. The main features we needed were quality, adequate support, durability, and a price we could afford.
Sasha now is prone to arthritis due to her injury, so the bed is a must-have for us to keep her as healthy as possible. Her energy and mobility are still high, and we have no doubt that it's because she gets the rest she needs.
You can check out this video that I just shot to see the proof–you'd never know she had a major injury:
What do you think about The Dog's Bed orthopedic bed? Do you have a pooch that would benefit from one of them? I'd love to hear your thoughts or any questions in the comment section below! And remember–
~  Life Is Always Better When You Share It With A Dog!  ~