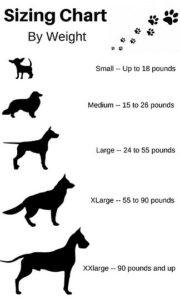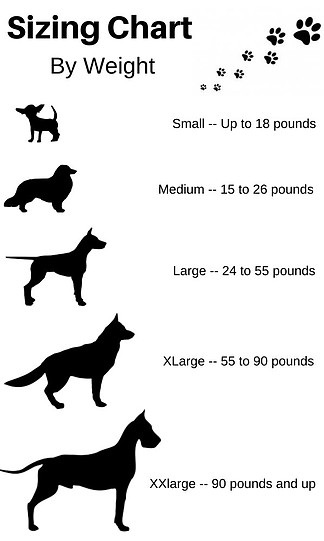 So you have decided that your pooch needs to get a better quality sleep and are ready to look at the great beds available on the market. You're making a terrific choice!
But now you need a dog size chart in order to know how to measure for a dog bed. I've created a chart and some guidelines that will help you determine the perfect size bed for your special dog. Check them out below!
Dog Size Chart By Weight
The first thing you'll want to do is find out your dog's weight. This will put your dog into one of the following categories:
Small — Up to 18 pounds
Medium — 15 to 26 pounds
Large — 24 to 55 pounds
XLarge — 55 to 90 pounds
XXLarge (Giant) — 90 pounds and up
These categories are a basic guideline, and if you noticed, some of the weights overlap into the next size.
F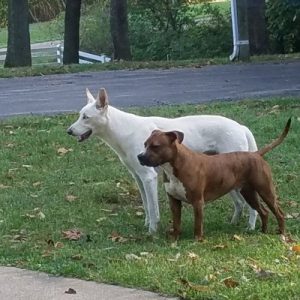 or instance, a dog is considered small if it weighs as much as 18 pounds. But a dog that weighs just 15 pounds can be considered medium.
This is due to the fact that each breed has a unique physical makeup. An 18 pound dog with a lot of muscle mass can actually be smaller than a 15 pound dog with a very light frame.
A great example of this is our male, Tahlen, and our daughter's dog, Bruiser.
Tahlen is a good size German Shepherd and weighs 80 pounds. Bruiser is an American Bullie who weighs 82 pounds. Take a look at the picture to the right of the two of them–Bruiser is a much smaller size even though he weighs 2 pounds more!
American Bullies are short in stature with a lot of muscle mass packed into that body. German Shepherds have a taller, longer frame and are a bigger size for their weight.
So the weight of your dog is just one part to consider when measuring him for his new bed.
==>==>  See 8 Orthopedic Dog Beds Worth Your Money Today  <==<==
Height and Length
You'll next want to measure your dog's height and length. Measure the height from the floor to the top of the ears.
Many people measure their dog's length from their nose to their rear. However, I recommend measuring from the nose all the way to the end of their tail.
The reason for this is that you want to have room for a dog to stretch out on their bed. Measuring the extra distance to the end of the tail will give you the extra length needed to be sure the bed you buy is wide enough.
Sleeping Style
You may think that once you have your dog's height, weight, and length, you have all the measurements needed. But if you don't consider your dog's sleeping style, you may wind up with a bed that your dog doesn't like to sleep in.
If you're looking for a rectangle bed for a dog who loves to sleep sprawled out, those measurements are all you need.
But if you are looking for something like a bolster bed for your snuggler, you'll also want to measure your dog when they're curled up sleeping.
On a bolster bed, the area available for your dog to sleep on is smaller and depends upon how much room the bolsters take up. So you'll need to get the size that has enough room for your dog to lay comfortably.
Especially for large dogs, it's very important to choose the right style of dog bed based upon how your dog sleeps. Once you've found the right bed, be sure that you know the area available for your dog and pick a size with adequate space for him.
==>==>  Have a large breed dog?  See how to pick the best bed for your pooch  <==<==
Weight Support For Orthopedic Beds
If you have an older dog, a dog with joint problems, or a large dog, you're probably looking at orthopedic beds. You'll want to check the depth of the support foam and whether it is adequate in the size bed you're considering.
Some orthopedic beds are made with a smaller base of foam in smaller beds. For instance, they may have a full 6 inches of foam in their largest bed, but just 4 inches in their other sizes.
Dogs like my daughter's dog, Bruiser, may not need the largest bed for their size, but need the bigger foam base to support their weight.
==>==>  Is an Orthopedic Dog Bed right for your dog?  Check it out here  <==<==
It's important to make sure that you match the size and support that your dog needs to get the full benefit of an orthopedic bed.
The Right Measurements To Get The Right Bed
If you want to know how to measure for a dog bed, use our dog size chart and guidelines, and get your dog the bed he'll love sleeping in.
If you have any comments or questions, we'd love to hear from you!
And remember,
Life Is Always Better When You Share It With A Dog!