Dog owners want the best for their pooch. That's especially true when it comes to something as important as their dog's bed!
They want a bed that will support their dog's weight, not create uncomfortable pressure points, and ensure a restful sleep for even the largest or most active breeds.
The maker of the Big Barker dog beds claim that the quality of their dog beds are the best on the market for your large dog.
We've reviewed these beds and agree that they are the Cadillac of dog beds! Check out our review below:
What Dog Breeds Will Benefit From A Big Barker Bed?
Big Barker makes dog beds for all sizes. But the strength of their brand lies in the quality they provide for the biggest breeds–those in the large to giant size category.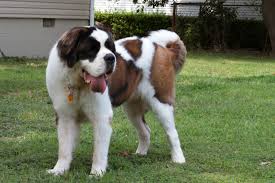 Great Danes, Alaskan Malamutes, German Shepherds, Labrador Retrievers, Collies, Newfoundlands, Akitas, Mastiffs, St. Bernards, and more–Big Barker has dog beds that fit them all!
Large breeds like these have more of a problem with a bed flattening out as they sleep causing pressure points.
These pressure points are uncomfortable, and dogs need to get up and move around in order to find a more comfortable position–many times in a night.
There's no way that your dog can get a healthy, restorative sleep this way, so they need a bed that won't flatten or bottom out.
Many large dog breeds are also susceptible to joint problems, especially as they get older. A quality orthopedic dog bed is essential to ensure their quality of life is as good as it can possible be!
What we found with Big Barker dog beds is an outstanding construction at a value price that meets the needs of large to giant dogs.
Excellent Construction To Support All Sizes Of Dogs
The first feature of Big Barker beds that we really like is the fact that they are made in American and use only American made foam.
This is a big plus since the quality standard is very high, and we always appreciate a company that provides manufacturing jobs in the US.
But no matter how much I may like the company, let's face it, the real question is, "Do they build a quality orthopedic dog bed that meets the needs of dogs who need them?"  In my opinion, they do.
So let's talk construction!
Support Foam
Big Barker beds have 7″ of therapeutic foam that is the same product used in high end mattresses made for you and I. There is 3″ of very high quality support foam sandwiched between two 2″ layers of durable comfort foam.
Now, they don't call this memory foam, and there are going to be some of you who may question whether it's a true orthopedic bed without having memory foam.
But the makers of Big Barker beds use a caliber of foam that's been certified by CertiPUR-US. This is a certification program that provides guidelines for the quality of polyurethane foam used in mattresses and furniture.
CertiPUR-US is administered by a non-profit organization and only certifies foam products that meet their rigorous guidelines.
Here are the standards that Big Barker dog beds have met: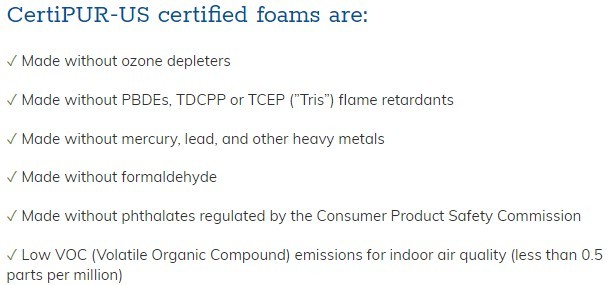 This quality foam will not flatten or bottom out as your dog sleeps on it. This means that they will get a sound, restorative sleep without having to change positions several times a night.
Fabric
The fabric used in Big Barker beds has 3 features that we love:
~ It looks great! A large dog bed needs to look good in whatever room of your house you put it in. The fabric in these beds is the type of high quality upholstery used in high end furniture.
The 4 attractive colors available are:

Burgundy
Charcoal Grey
Chocolate
Khaki
No matter what your home's color scheme is, there's an option that will look good!
~ It can withstand the wear and tear of a large dog sleeping on it every day. Big Barker fabric is a strong microfiber that can handle the rubbing and pawing of even the largest dogs.
This fabric passed the Wyzenbeek Abrasion test with a score of 100,000. That's pretty impressive when you consider that a score of 15,000 is all that's required for high end household furniture.
~ It's machine washable. Let's face it, dogs get dirty, and their beds can really start to smell bad if they can't get washed! Big Barker states their fabric will not shrink in up to 1,000 washes in cold water.
Not only that, but the zipper goes 75% around the bed. Have you ever fought to get the foam stuffed back into a dog bed after taking the cover off? Then you'll appreciate this feature!
As a dog owner who has had dogs of all ages and sizes, I know that the washability of a dog bed cover is essential. Big Barker doesn't let you down here.
==>==>  How to know if your dog is in pain–check out these 11 signs of distress  <==<==
Glue
Just like any beds that have multiple layers of foam, Big Barker uses glue in its construction. But not all glue is created equal.
The glue that Big Barker uses is safe enough to inhale so that you can be sure your dog is not sleeping on a bed giving off any toxic fumes.
Once we looked at the construction materials used and how Big Barker creates it's dog beds, it became obvious that quality and safety are top considerations.
But there's one test that we use to help us determine the true quality of any product–we'll talk about the warranty offered next!
A Great Warranty
Any manufacturer can claim they have a great product. But if they truly know they've constructed a quality product that will last, they'll offer a great warranty.
Big Barker offers a 10-year warranty on its dog beds! They guarantee that your dog bed will retail 90% of its shape and support for 10 years…….or they'll replace it for free!
I remember a few years ago when my husband and I were shopping for a new vacuum cleaner. We had narrowed it down to 2 models that both looked like they were durable and heavy duty.
However, one had only a 1-year warranty, while the other had a 3-year warranty. That made our decision for us!
We knew that the company that offered the longer warranty had more confidence in it's own product.
Big Barker is confident in the quality of dog bed that they offer, and the 10-year warranty shows it!
Vet and Customer Reviews
While I'm an experienced dog owner, I'm not a vet. So I wanted to see what vets had to say about Big Barker dog beds.
Here is a video from the Animal Therapy Center in Bethlehem, PA, that shows how they utilize Big Barker beds to help support and heal large dogs at their center:
In addition to vets endorsing Big Barker beds, dog owners who've purchased them are overwhelmingly pleased with their dog bed. Here are some testimonials from actual customers:
"AMAZING quality for my 80lb 11month old German Shepherd. I lay on it too to feel how supportive it is. He hasn't chewed into it yet thank goodness and I cover it with soft padding so that he can nest in if he would like to. The support is incredible and it's very much needed on a big dog like mine. Thank you Big Barker! It's worth the $$$s"
****
"My dog Tabitha loves her dog bed. She is a 2-year old, 100 pound American Bulldog who has already had one knee surgery. Knowing this bed is perfect for her joints makes me love it too!"
****
"Our 4 yr old German Shepherd/Rottweiler mix has never laid on any bed we have purchased for her. She just would not even get ON a bed. She would rather sleep on the tile floor! But even on the first day that we got our "BigBarker" bed, she got onto it (after some coaxing with carrots!) and slept on it the very first night! Have never had to coax with treats since. We wanted this for her because Shepherds are prone to hip issues, and she totally stretches out and makes it all hers! It is easy to wash as the cover is removable and easy to get back on. It is SO worth every dollar! We are BIG FANS!!"
As of this writing, there are 3,576 ratings on Amazon about Big Barker dog beds with a full 89% of reviews being 5 star reviews!
Price
There are definitely cheaper orthopedic dog beds on the market, and I've reviewed several of them at 8 Best Orthopedic Dog Beds Worth Your Money.
But investing now in a Big Barker dog bed can wind up being much cheaper in the long run, especially for those with very large and giant dog breeds.
The Big Barker 10-year warranty ensures that you won't have to replace your bed every few years. This can result in an overall cost that is much lower than purchasing a lower priced bed.
With the value Big Barker offers in their construction and size, the price is well worth it!
Big Barker–The Cadillac Of Quality Dog Beds
There is absolutely no doubt in my mind that a Big Barker dog bed is one of the very best things you can buy to keep your dog healthy and well rested. In my opinion, it's the Cadillac of orthopedic dog beds!
Large dog breeds are prone to joint issues that can affect their ability to move and function well, especially as they get older.
But not only can a great supportive dog bed help with these types of problems, they can aid in preventing them by ensuring your dog has a good restorative sleep every night.
Do you have a large size dog breed? Have you purchased an orthopedic dog bed before? I'd love to have you share your experiences, as well as ask any questions, in the comments below!
And remember….
"Life Is Always Better When You Share It With A Dog!"