There are more challenges to finding a quality dog bed for large breed dogs than there are with small breeds. The best choice is an orthopedic dog bed.
So how do you choose the right orthopedic bed for a large or giant dog? How can you be sure that a bed you purchase will support the weight of your dog and not flatten or bottom out?
After checking out and reviewing many brands on the market today. I've found the best orthopedic dog beds for large dogs and listed the top 5 for you–check them out below!
#1 – BuddyRest Crown Supreme
BuddyRest orthopedic dog beds are the best of the best, and in my opinion, they can be called the Rolls Royce of dog beds!
Their approach to creating an orthopedic dog bed is through "sleep science". They use pressure mapping technology to ensure that their beds conform to your dog's body and ensure that their weight is evenly distributed across the entire dog bed.
This helps their spine stay straight and promotes good blood flow to all parts of their body. Dogs healing from an injury or those with joint problems or arthritis will definitely benefit from an orthopedic bed of this quality.
The model that I recommend is the Crown Supreme. This is an award-winning bolster bed that is made with one of the best features of BuddyRest beds–their gel infusion technology using TrueCool memory foam!
We chose the Crown Supreme for our sweet Sasha when she had her second CCL tear.  She can't have surgery to repair this tear, so a truly supportive, comfortable bed was a must have for us.  Not only does she love it, but you can see in the picture on the right that her brother, Tahlen, climbs in it whenever he gets a chance as well!
The 4.5# density high-quality foam is a luxury open cell memory foam comparable to the foam used to make high-end mattresses for you and I.
Instead of getting hot like many memory foam beds, the Crown Supreme's TrueCool gel foam will keep your dog cool in the summer and warm in the winter.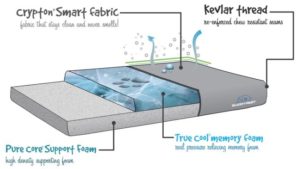 Covering the foam is a suede material called Crypton, which is made to be waterproof, hypoallergenic, and anti-bacterial. It's created with a molecular chemistry that prohibits mold and bacteria growth.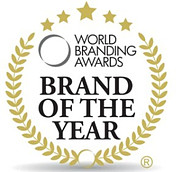 That means it never smells and stays clean, requiring very little washing. With the use of strong Kevlar thread, this Crypton cover is as chew resistant as possible.  I can verify that this fabric is fabulous and lives up to these claims!
What's the best evidence of the quality of this bed? The 10-year warranty! They guarantee each bed against any defects in workmanship or materials for a full 10 years.
It's no wonder that BuddyRest won the top honors at the Animalis Edition of the World Branding Awards for Bedding in Vienna in July 2019!
Here's a quick video that showcases the features of the BuddyRest Crown Supreme:
In addition to the quality construction, this bed is one of the most attractive for your home. With 4 beautiful colors and 3 sizes, you will be able to find a bed that fits your dog and the looks of your home!
Nothing is perfect, and there are 2 negatives to this bed:
1. The largest size they offer is the XLarge at 48″ wide. While this will fit the majority of larger dogs, it's going to be too small for giant breeds like Great Danes. Other orthopedic beds have sizes up to 60″ to accommodate the extremely large breeds.
2. The BuddyRest Crown Supreme is the most expensive bed on the list. However, this is a perfect example of "you get what you pay for." Between the gel foam technology and Crypton material, you are truly getting a superior product that's worth the added cost. 

#2 – Big Barker Dog Bed
If BuddyRest is the Rolls Royce of dog beds, Big Barker is the Cadillac edition!
Big Barker dog beds are one of the most popular brands on the market, and for good reason. They are extremely high quality and thousands of satisfied customers have given them a 5-star rating.
These beds are manufactured specifically for large dog breeds up to 250 lbs. Great Danes, Mastiffs, St. Bernards–there is a Big Barker bed that will fit all of them!
The first time I got to experience a Big Barker bed was when my daughter purchased one for her dogs. She has a small German Shepherd named Luna and an American Bullie named Bruiser.
Luna absolutely loves the bed and lies on it all the time. Bruiser is a snuggler and prefers his PetFusion bolster bed to sleep on (#5 below). But when he wants to snuggle up with Luna, the Big Barker is perfect for them both!
Several months ago, we wanted to have an orthopedic bed for the dogs in my husband's man cave in the garage because both Sasha and Tahlen spent a lot of time in there with him.  So we moved the original bed we purchased, The Dog's Bed, into the garage.
We chose The Big Barker to replace it since their headrest edition looked like the perfect bed for how Tahlen loves to sleep.  We were right, and he just loves this bed!
We were impressed with high quality materials and construction that carried through the entire bed. The American made foam is a proprietary blend of 3″ of therapeutic foam sandwiched in between 2″ layers of deluxe comfort foam.
==>==>  Do you know how to tell if your dog is in pain? Check out these 11 signs  <==<==
Now orthopedic beds are usually made with memory foam. But I have no concerns about the fact that Big Barker doesn't use true memory foam.
Their beds are certified by CertiPUR-US, which has extremely rigorous standards. The foam in these beds is safe for your dog and gives all the support a dog needs.
Now let's talk about the fabric!
It's a strong microfiber that looks great and is made to last after many washes. In fact, they claim the cover can be washed 1,000 times in cold water without it shrinking. After seeing and feeling the fabric firsthand, I believe it!
This fabric also scores 100,000 on the Wyzenbeek Abrasion test, which tests fabrics for their ability to handle wear and tear. As a comparison, high quality furniture for your house only requires a score of 15,000.
Just like BuddyRest beds, Big Barker beds back up their product with a 10-year won't-flatten warranty. They guarantee the bed will keep 90% of it's shape.

While Big Barker beds are made for large to giant dogs, they also offer a wonderful bed for smaller dogs called the Barker Mini. This bed boasts 4″ of supportive foam for dogs up to 50 lbs.
You can check out the headrest edition bed, the Barker Mini, the Big Barker crate pad, and their SUV orthopedic bed at Amazon as well!
#3 – Bully Beds Orthopedic Memory Foam Dog Bed
Bully Beds are another excellent quality orthopedic dog bed that I can wholeheartedly recommend. They advertise their beds as "The Affordable Dog Bed With 20 Year Warranty".
Yep, you read that right–a 20 year warranty! As soon as I saw that, I knew it was an orthopedic dog bed that I needed to look at, and I wasn't disappointed.
Let's start with the foam. Bully Beds are made with hypoallergenic, medical-grade, non-toxic memory foam.
They're constructed with 2.5″ of 4.5 lb memory foam on top of 4.5″ of 2 lb. support foam for a full 7″ thick mattress. All the foam is certified by CertiPUR-US, so you know it's safe for your dog.
The outer cover is removable and washable, and the fabric is a very good-looking microfiber with piping accent. This bed will look good in your home!
A feature I love about a Bully Bed is the waterproof liner. Many waterproof liners are effective, but can make a dog hot as they sleep on it. These liners are breathable and made to keep your dog as cool as possible when they sleep.
The non-slip base will keep your bed where it's supposed to be. If your dogs are like mine and want to be where you are in the house, this is a great feature. The bed won't slide around into traffic areas or slip as your dog gets in and out.
Here's what a recent customer who is the owner of a Mastiff had to say about their Bully Bed:
"Bully Bed is a sturdy bed! Well, we have had the Bully Bed for our 115 lb. South African Boerboel about a week now, and she's gradually getting used to it. She is definitely not used to the amount of support the bed offers, but she is sleeping on it and likes to "fluff it up" before laying on it. I will definitely continue to "scent" the bed for her to encourage her to lay on it. The waterproof cover is super sturdy, too, I have no doubt it will hold up to many years of our big girl laying on it. The cover is a beautiful chocolate brown, which will be easy to clean and vacuum hair."
If you're looking for a good-looking quality orthopedic dog bed, a Bully Bed should definitely be on your list to consider!

#4 – K9 Ballistics Tough Orthopedic Dog Bed
K9 Ballistics specializes in making chew-proof and chew-resistant dog beds. In their lineup they have the K9 Ballistics Tough Orthopedic Dog Bed.
Do you have a dog that likes to nibble on their bed, scratch, or dig? If so, then this may be the orthopedic bed for you!
The 5″ of American sourced, CentiPUR-US approved foam is covered in a ripstop fabric. This fabric is washable and resists odors, dirt, and grime.
I can testify to the sturdiness of ripstop fabric. When my husband needed work pants for his job, his brother recommended a brand with ripstop fabric. It is definitely sturdy and lasts!
K9 Ballistics has a 120-day warranty on the removable cover. If your dog damages the cover by chewing, digging, scratching, etc., they'll replace it free of charge.
Now keep in mind, they are very clear that this bed is for light chewers. They state that if your dog uses his bed as a rawhide chew toy, you're better off with their Chew-Proof Elevated Dog Bed.
So if your pooch needs a chew-resistant bed with a quality memory foam mattress, the K9 Ballistics Tough Orthopedic Dog Bed may be just what you're looking for!

#5 – PetFusion Ultimate Dog Bed
As I said above, my daughter's dog, Bruiser, is a snuggler. He's the most comfortable on a bed where he's surrounded by bolsters and can feel the bed all around him.
Is your dog a snuggler also? If so, then my best recommendation is the PetFusion Ultimate Dog Bed.
I'm not the only one who's impressed by this bed–Mattress Advisor named this bed the Top Dog Bed for 2019!
The base of this bed is 4″ of solid memory foam for all sizes except the XXL Jumbo. That bed has 6″ of foam to ensure good support for larger dogs.
The green polyfill bolsters surround about 75% of the bed, there's a spot for the dog to enter and exit in the front. These bolsters on a great memory foam base make the PetFusion Ultimate an extremely comfortable bed for your dog.
The fabric on this bed comes in 3 colors that are designed to look good in your home. It's machine washable and many customer reviews state that it's easy to clean hair off of–a big positive in my book!
They offer a 2-year warranty on any manufacturing defects.
There's a couple things you need to remember if you are thinking about purchasing this bed. You need to be sure to buy the right size because the bolsters take up some of the real estate your dog has to lay on.
I recommend considering the next size up if you have any doubts about whether or not it will be big enough.
Also, I don't recommend this bed for the very largest breeds. The jumbo size is just 50″ wide, which is much less than some of the other brands I recommend that are 60″ and wider.
While the PetFusion Ultimate has a good memory foam base, I believe that the largest breeds need the kind of supportive base that you will get with a BuddyRest bed, Big Barker headrest edition, or a Bully bed.
But if you have a snuggler and want a comfortable, supportive bed designed to give them the security they want, you'll be happy with the PetFusion Ultimate Dog Bed!

Your Large Pooch Deserves A Great Orthopedic Bed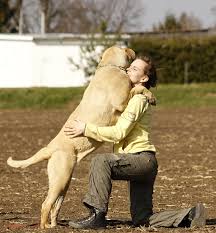 If you're looking for the best orthopedic dog beds for large dogs, I definitely recommend you check out the 5 listed above.
It's so important to give large breeds a bed that will fully support their weight. If a bed flattens or bottoms out, your dog won't get the restorative sleep they need to stay healthy.
Do you have any experience with any of the beds reviewed above? Which bed looks like it would be the best for your dog?
Let me know in the comments below along with any questions you have!
And remember…..
Life is always better when you share it with a dog!