No matter what size dog is your best friend, you want to provide them with a quality dog bed that will enable them to get good restorative sleep and wake up refreshed and healthy!
Large breed dog beds can be particularly challenging to find, especially for those with very large and giant dogs.  However, the bigger the dog, the higher the quality is needed in a bed to ensure that they get the sleep they need.
So let's see how to choose the best bed for your pooch!
Determining Your Dog's Size Category
Your dog's breed size is mainly determined by their weight at maturity. As a general rule, these are the weights that determine what category your dog's breed falls into: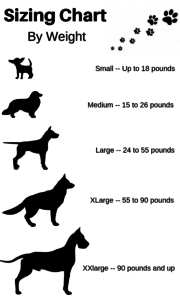 Up to 18 pounds–Small Breed
15 to 26 pounds–Medium Breed
24 to 55 pounds–Large Breed
55 to 90 pounds–Extra Large Breed
over 90 pounds–Giant/XXLarge
These general guidelines, along with your own dog's height and length, will help start you in the right direction as you begin your search for the right dog bed!
Evaluating Your Dog's Needs
In my opinion, nothing is more important than choosing a bed that meets your dog's specific needs. You can buy the most expensive, top-rated bed in the world, but if it isn't the right size or style or isn't constructed with the right materials to be the most beneficial to your dog, it isn't the best for your dog.
Here's what you need to consider when evaluating your dog's needs:
~   Young Age–The majority of your dog's growth occurs in the first year, but he will still continue to grow, on average, up to about 3 years of age.
When purchasing a bed for a dog that is under 3 years old, you may want to factor in some extra growth when determining the size needed.
~   Older Dogs–Just like their owners, as dogs get older, their muscles and joints stiffen up more easily resulting in slower movements and possibly increased weight.
They may need a bed with extra cushion and firmness for greater support, such as an orthopedic bed, or a different style that is easier to get out of.
~   Medical Conditions–Larger breed dogs are particularly susceptible to joint and ligament problems that require beds that do not flatten and produce pressure points.
Also, dogs recuperating from an injury or from surgery may have special needs that your veterinarian can guide you with.
~   Weight vs. Size–While the size category of your breed is determined by their weight, 2 dogs with the same weight can vary greatly in length and height.
Those differences need to be addressed when evaluating the size of bed and fill needed in a bed for each of those dogs.
~   Daily Activity–Does your dog's daily life include running outside through a creek and the woods chasing squirrels and rabbits or running around with children through the yard all day?
An active dog may need a more supportive bed to help him get the restorative sleep he needs to stay healthy. Also, a dog who's getting dirty and bringing muddy paws through the house often will need a bed with a removable cover for washing in order to make it last as long as possible.
==>==>  See how CBD Oil can help with your Dog's Mobility, Pain, Anxiety, and more  <==<==
Does My Dog Need an Orthopedic Bed?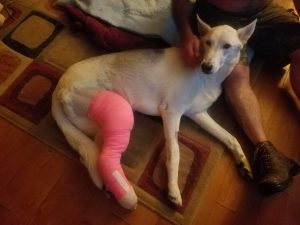 One type of bed that may be right for your dog is an orthopedic dog bed. These beds are produced to eliminate pressure points and not flatten as your dog sleeps.
Older dogs, those with medical conditions, and large dogs susceptible to joint or ligament problems could benefit greatly from an orthopedic dog bed.  Very active dogs will get a much more restorative sleep with a quality memory foam bed as well.
There are many great beds on the market today that provide orthopedic support to increase your dog's comfort.
You can find more detailed information about the differences between an orthopedic and a standard dog bed at What Is An Orthopedic Dog Bed And Is It Right For Your Dog?
Choosing the Right Style and Size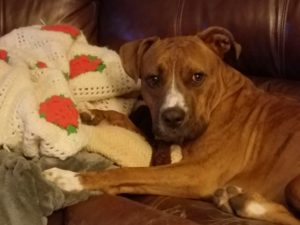 There are so many types and styles of dog beds, how do you know which one your dog will love the most? First you'll need to consider several of the various styles available:
~   Basic Rectangle Bed–Great for dogs who love to sprawl out, and you can find them with various inches of fill to keep even the heaviest of dogs from flattening it out.
~   Donut or Nest Bed–These beds are made with a cushion on the bottom and raised sides around it.
This style is especially popular with small dogs who like to cuddle when they sleep and helps them keep warm. However, any dog who likes to curl up will be happy with this type of bed.
My daughter has an adorable 2-year-old, 70 lb. American Bullie named Bruiser and bought a rectangle bed with 5 inches of foam for a large breed dog. Since my 2 German shepherds love to sprawl out on theirs, she was sure Bruiser would love it.
After 2 weeks of watching him refuse to sleep on it and constantly move all of her afghans in a ball to sleep on them, she realized that her snuggler needed a nest type bed.
The end result was that Bruiser totally loves his new nest bed, and I got a new bed for my dogs in our basement (present for all the babysitting I do)!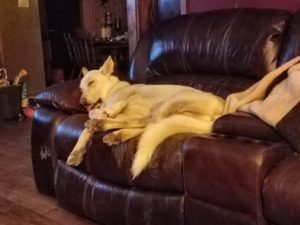 ~   Bolster Bed–This type of bed has a cushioned bottom and is raised on one or more sides. Does your dog like to sleep on a pillow or does he lay with his head on the armrest when sleeping on the couch?
This type of bed may be just what keeps them the most comfortable (and helps keep them off the couch too!)
~   Cave Bed–Does your dog like to curl up inside a blanket covering his whole body? A cave bed can provide the comfort, security, and warmth that your dog needs.
For 17 years we had a Chinese Crested hairless dog named Fester Showtime (if you're a motorcycle racing Jeremy McGrath fan like my husband, you'll understand the name!).
This wonderful dog would spend 10 minutes pushing and tucking his blankets around until he had created the perfect cave for himself and would sleep there for hours!
~   Sofa Bed–Just as the name says, this type of bed is shaped like a sofa and is usually raised up a few inches higher than other styles.
For dogs who like sleeping on a couch, this is a great alternative for your dog to have his own comfortable bed that fits in your decor more like regular furniture.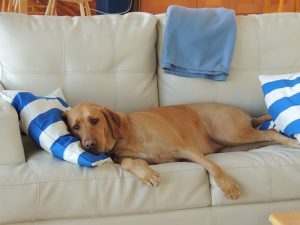 Once you've determined the style of bed that best fits your dog's needs, you'll have to choose what size of bed is best. For sprawlers like mine, I measured them from nose to tail and then from the top of their heads to the floor to determine how large they needed to be.
Just like in choosing the style, measure your dog as he sleeps, making sure that you add in extra room to be able to move and stretch and if he has further to grow. If in doubt about choosing between 2 sizes, always purchase the larger size.
Large Breed Dog Beds–You Can Find The Best For Your Pooch
There are many dog beds on the market, and picking the right one for your dog can be confusing. Large breed dog beds, in particular, can be challenging due to the weight of these dogs and the joint and ligament problems that plague many of these breeds.
By observing your dog's sleeping patterns, evaluating your dog's needs, getting some input from your veterinarian if needed, and determining the appropriate style and size, you will have the tools you need to choose the best bed for your beloved pooch!