Almost a year ago, we started our 2 German Shepherds on a raw diet. It's been a great success, and they love it!
However, we struggled with one aspect of making sure they had everything they needed, which was where to buy organ meat for dogs?
After researching several options, I found a source that meets all our needs–Raw Feeding Miami. I'll review it below, and you can see if it's a great choice for your dog's raw diet!
The Search For The Right Organ Meat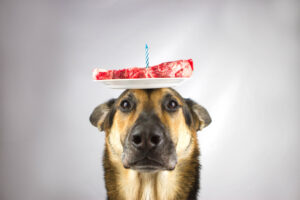 We made the decision to change over to a raw diet for our Sasha and Tahlen about a year ago. They've been absolutely thriving on it and got a terrific bill of health at their last vet visit.
Their diet has been evolving over the last few months as I've gotten more knowledgeable about what is best and where to find all the ingredients.
But I was surprised at how difficult it was to find the various organ meats we needed–especially since we live in the Midwest!
So I looked for a source online that had 3 requirements:
A wide variety of quality products
Reliable source where I can buy in bulk
Reasonable pricing
There's one company that met each requirement, and I'll detail it below!
Our #1 Choice–Raw Feeding Miami
Raw Feeding Miami was founded by Carla Boyadjian, is based in Miami, Florida, and you can access the site at RawFeedingMiami.com.
Carla began searching for sources of raw meats when she made the decision to start feeding her 2 Great Danes and 3 small dogs a raw diet. As you can imagine, finding quality ingredients to feed 5 hungry mouths that didn't cost a fortune wasn't easy!

She eventually found other raw feeders to order with, and they were able to buy bigger and bigger quantities. That led to the creation of Raw Feeding Miami, and they ship products all over the United States.
The quality of the products offered was Carla's biggest priority, and she offers nothing that she wouldn't feed her own dogs.
There are no denatured meats, no condemned, dying, or diseased animals, and no meat imported from China. Raw Feeding Miami sells nothing from an "unknown" source.
All the meat producers are verified for a high level of ethics and sustainability in how they treat their animals. All the meats are hormone and antibiotic free.
This was important to me in determining what company to trust with my dog's health!
What Do They Offer?
The variety of products that Raw Feeding Miami has available is impressive. No matter what dietary restrictions, like allergies, your dog may have, there are plenty of options to choose from.
When I first started searching for organ meat, I was pretty much thinking from the 3 basics: chicken, beef, and pork. But what I found was a selection of products that I didn't even realize could be available!
Take a look at the choices you have:
Beef
Chicken
Duck
Fish
Goat
Goose
Green Tripe
Lamb
Pork
Quail
Rabbit
Turkey
Pheasant
Elk
Wild Boar
Bison
Kangaroo
Camel
If anyone is worried that they won't be able to get a wonderful diversity of meat for their dog's raw diet, one look at Raw Feeding Miami will reassure you!
I was looking for organ meats and found the variety that I needed with kidney, spleen, liver, brains, green tripe, etc. Each of these organs is available from several different animals.
For example, you can order kidneys in lamb, bison, pork, rabbit, goat, and beef. So whatever dietary requirements your dog has, you can get the very best mix.
My favorite way to order organ meat is with their pre-made grind called Monster Mash. It's a blend of spleen, kidney, green tripe, liver, and one other organ that alternates.
No more trying to figure out the best combination, my dogs get a wonderful blend with all the vitamins and minerals they need. It's absolutely the easiest way to add organ meat to your dog's raw diet!
After being very pleased with my first order from Raw Feeding Miami, I wanted to see everything they had to offer. Their product line includes a lot of specialty items that I hadn't seen anywhere else.
Here are some of the items that you'll find on their site: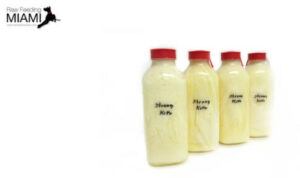 ~ Raw Dairy–The raw dairy products come from only grass fed animals at an organic farm. They are completely raw and have never been pasteurized. You can choose from:
Raw Bovine Colostrum
Raw Buffalo Colostrum
Raw Cow Kefir
Raw Goat Milk
~ Treats–There's a huge selection of treats from every animal category. You're sure to find something your dog will love no matter what size they are. Here's a few examples:
Several types of dehydrated jerky, including exotic ones such as kangaroo
Cow Hooves
Dehydrated Beef Snout
Dehydrated Smelts
Dehydrated Beef Trachea
~ Supplies and Supplements–There is an array of beneficial supplements and supplies to promote complete wellness for any dog.
Do you have an older dog or one that may be prone to joint problems? Raw Feeding Miami has an organic hip and joint supplement that is a natural anti-inflammatory.
Looking for a natural flea and tick spray that contains no sulfates, pesticides, or parabens? Their spray is made from organic essential oils and can be used weekly or any time you and your dog have an outdoor adventure!
Overall, I found the diverse selection of products at Raw Feeding Miami to be impressive. You can check out everything they have to offer by clicking on the link below!
O
ur Experience With Raw Feeding Miami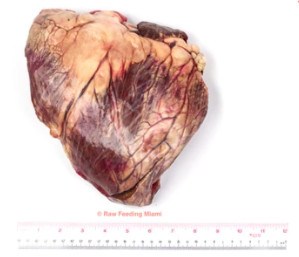 No matter how great the products are, if the company doesn't provide a good customer experience, I don't want to give them my business.
When I put in my first order of organ meat, their website was easy to use and their check out process was fast. The description of each item was detailed, which was extremely helpful given that many of the selections were unfamiliar to me.
When researching my options for a meat supplier for my dog's raw diet, another consideration was the total cost when shipping costs were added in.
As all suppliers do, Raw Feeding Miami ships their products frozen. Depending upon how much you order, your shipment can be very heavy as well. As a result, shipping charges will be more than a lot of other items you might order online.
The reason that I always order from Raw Feeding Miami is because, even with the superior quality of the products, the total cost of my purchases are lower than with other suppliers I've found.
For my dogs and I, it was a no-brainer!
Keep Your Dog Healthy With The Right Organ Meat
If you need to know where to find organ meat for dogs, my #1 recommendation is the great selection and convenience at Raw Feeding Miami.
Our dogs are thriving on their raw diet, and I know one of the reasons is because they're getting much needed minerals and vitamins from quality organ meat.
In fact, I'm so sure that Raw Feeding Miami will meet your needs, that I'm giving you a gift of 15% off if you use my link below to check them out!
If you have any experiences you'd like to share, I'd love to see them in the comments below along with any questions you may have. And don't forget….
Life Is Always Better When You Share It With A Dog!